Your Day Zero Global Investors
Day Zero has a different meaning for every founder. It could be the day they decide to quit their job to become a founder or the day they find a problem that they are passionate to solve or the day they decide to raise their first institutional capital. Irrespective of what Day Zero means to you, we want to be the first call you make.  We put in Day Zero capital in the range of $500K and plug you into a robust global network to take your startup to the next level.
Where are you in your startup journey?
Join The Antler India Residency
At The Antler India Residency, we are bringing exceptional builders together to meet, learn and co-create, with the ultimate goal of finding a co-founder and kick-starting their entrepreneurial journey. This is an opportunity to go from pre-idea or idea to funding in 3 months. Asides from helping find a co-founder, a true partner for your journey, we put in $250K as the first believer. Applications are now open.
Day Zero Capital meets robust Global Platform
At Antler, we are merging the power of institutional capital with the capability of an expansive global platform. From Day Zero, we provide talent support, deep business model validation, global expansion support and capital — with a personal passion that goes beyond traditional investing. And as our portfolio companies grow, we are a long-term capital partner who provides follow-on funding and access to tier-one VC firms in subsequent fundraising rounds.
The community of over 4200 Antler founders globally will be a solid sounding board to help you navigate your early days and be the early pool of customers. Get focused feedback and learn from the best in business with access to over 600 leading operators. 
Our companies have raised capital from leading investors such as Sequoia, Y Combinator, Founders Fund, Valar Ventures among others.
companies with a female founder

offices across five continents
Global companies leading from the front
XanPool is an open finance infrastructure company that makes sending all forms of money across the world faster, cheaper and at lower risk.
The People behind Antler India
As builders, we have founded companies in E-commerce, Ed-Tech, Mobility, FinTech, and Web3, created products used by millions of people, hired early core teams, and raised capital across different stages.
As investors, we have looked at over 25000 startups in the last decade, and funded over 80 companies across various stages, sectors, and geographies. We have seen multiple companies go to IPO, delivered sizable M&A outcomes and worked closely with nearly 55 startups in helping them raise further rounds of funding from some of the world's marquee funds.
We have been first believers in: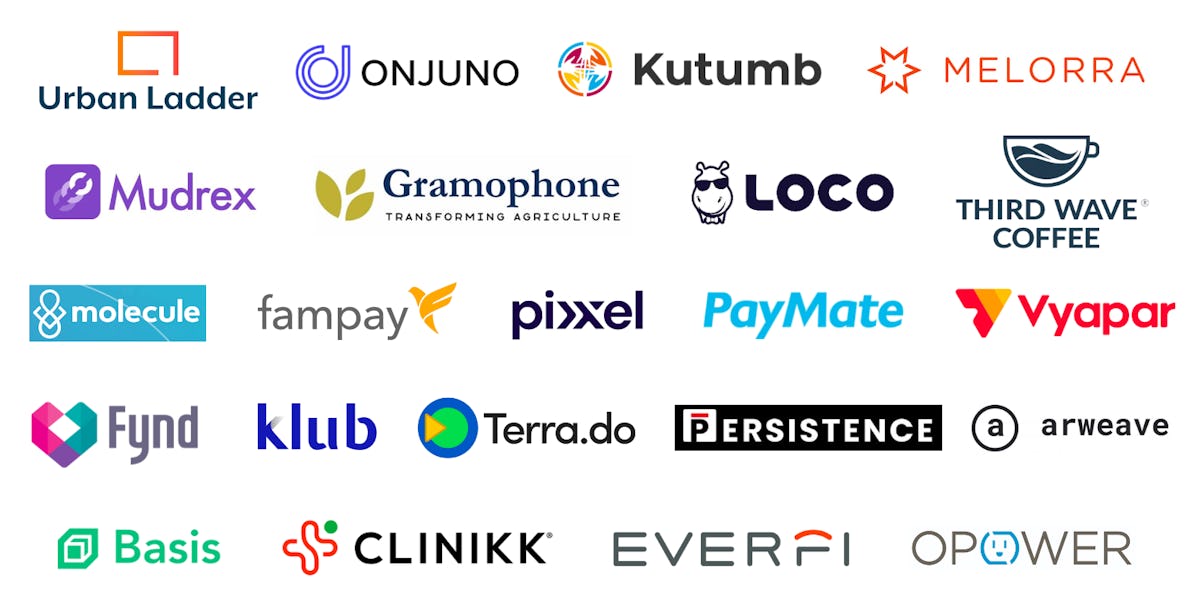 Companies we have backed at Antler India
All-in-one platform to manage & grow online + offline fitness business. Scheduling, sales & marketing tools for yoga studios, fitness studios & gyms.

codedamn enables people to practice coding concepts while they're learning them. We do this by giving them a real coding environment within browser.

Humit is a bite-sized audio sharing and discovery platform that turns music into a social-first experience.

PeakPerformer helps an organization enable, empower and upskill leaders at all levels.

The State Plate is an e-commerce company on a mission to sell high-quality, authentic regional food products from states across India.

Gladful is an online protein foods brand for kids and families that combines formulation innovation, fantastic taste and nutritional functionality.

PulsOps is a no-code observability and analytics platform for high-velocity operations teams.

Bold Finance aims to revolutionize the ~$85 billion unorganized gold loan market, by leveraging existing jeweller networks to source and dispense gold loans.

A new-age platform for high-yield investment products composed of curated retail loans that earn yields up to 18% per annum.

Leveraging the power of cryptocurrency, Flint offers a range of passive investment assets to its users.

A platform built at the intersection of education and Web3 with the aim to make education more accessible and inclusive, providing the real-time experience of attending a university in a virtual world.

Adaptive is transforming the current state of DevOps and infrastructure functions for millions of developers and engineering managers globally.

Finverv is buildling the most robust credit infrastructure for technology platforms and seamlessly enabling credit demand for lenders.

ApniBus is a full-stack asset-light solution for the affordable intercity bus market in India.
Leapfrog from Day Zero to Beyond 
Globally, 68% of all Antler portfolio companies have raised their next round of funding.
An extension of our founders' teams: we don't launch and leave. We are here to maximize their success for the entire life cycle of the company. From helping you find your first global customers to hiring a solid founding team and preparing for your next fundraise, our global platform is equipped with resources to leapfrog your startup to the next level. 
Our founders scale faster: 
New age investment platform, IndiaP2P disbursed $1m+ worth of microfinance loans to over 1500 women borrowers in 8 months 
Building the country's best intercity travel platform, ApniBus scaled to over 1 million transactions in 7 months
PeakPerformer raised $3M seed round from Sequoia Surge in less than 6 months to scale an organization's most important asset: people
If you are someone who is tinkering around with ideas to build on the India stack, sign up to understand our thesis on the space and to brainstorm IRL.
Where and when?
Thursday, October 6th, 11:30 am
Antler India office, Bangalore
RSVP and Details
Hear from the founders we backed!
The Antler team feels like an extension of one's own team. I have some experience raising money before, but this is unique to Antler. They don't see you as investors, you are like their own team.
Neha Juneja
Co-founder & CEO, IndiaP2P
Section anchor
Build with Antler India
Don't have a Linkedin profile?
We are now accepting applications on a rolling basis. We will revert in 2 weeks.
Great, you'll now receive our start-up news!
You can edit locations in your email preferences