Build a disruptive startup with Antler Norway
Antler is a global early-stage VC investing in the most exceptional people building the defining companies of tomorrow. In Norway, we bring together people from all backgrounds to build disruptive startups in all industries and sectors.
Go further and faster than you ever thought possible
From day one, we provide access to an unrivaled ecosystem and expertise to support exceptional founders in building successful companies. We leverage our massive global network of founders, advisors and investors to provide hands-on support and early-stage funding.
Antler Norway helps founders in all parts of their startup journey by tackling the major challenges founders face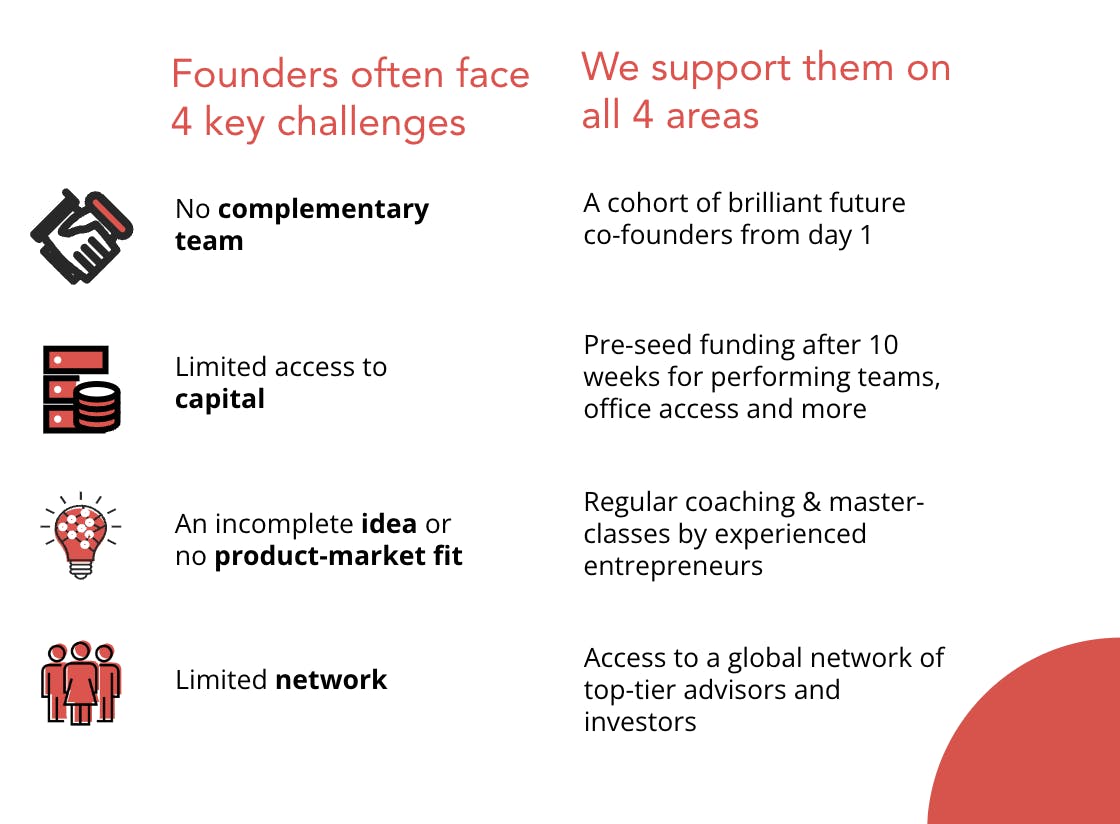 Do you have an existing team or business that you want to scale with the support of Antler? Learn more and get in touch here.
Get the Antler advantage: 5 ways we help you get ahead
Find exceptional co-founders

Meet your co-founders. Our platform is joined by Europe's top entrepreneurs, software developers, data scientists, business leaders, and industry experts, all highly motivated to build their next startup.

Validate your idea

Get real-world data and collaborate with industry leaders to validate your business model and launch your first pilot.

Grow your business

Get early traction, convince your first customers, and plan your expansion with support from Antler's unparalleled global network and 500+ advisors. The economic and governmental stability in Norway along with Antler's unprecedented access to financial support, industrial expertise, investors, and talent means you're best possible hands to grow your business.

Get funding

Get investment from day one. We invest US$125,000 for an 10% equity stake (on a fully diluted basis) in each company selected by our investment committee.

Continue scaling

Get support from Antler even after your cohort ends to scale internationally through our global platform and network.
Ready to start the conversation? Apply in less than a minute: Simply pick Norway as the location, and share your LinkedIn profile and email with us. We'll take care of the rest!
With Antler, I feel like I'm finally able to make a real difference. Working with experimental technology is a tough sell as not many grasp its true value, but with this network of people who really understands it, it's so much easier to get somewhere
Øyvind Sørøy
Co-founder and CTO of Sloyd
Norway, 2021
The Antler experience: get from zero to seed
Want to learn more about the Antler experience before you apply? Check out the resources below or get in touch with our scouting team on matze@antler.co for more information.
Collaborating with industry leaders
Section anchor
Join Antler in Norway
Applications now open for August 2022
Don't have a Linkedin profile?
Start Date

Applications are now open for the cohort starting August 2022. Want to learn more before you apply? Get in touch with us on matze@antler.co to hear more about who we look for, what the Antler experience is like, and the companies we've helped build so far.

What you get

Following an investment decision, we invest US$125,000 for an 10% equity stake (on a fully diluted basis) in each company selected by our investment committee. We also organize an Investor Day where your business will have the opportunity to pitch to investors. To cover the cost of the program, all companies that receive investment are required to pay a fee of US$50,000.
Great, you'll now receive our start-up news!
You can edit locations in your email preferences