Where exceptional builders meet exceptional co-founders
Every startup's story begins with remarkable people. Technologists, creators, thinkers and builders. At The Antler India Residency, we are bringing exceptional builders together to meet, learn and co-create the companies of the future. Apply to be a part of India's most exclusive community of aspiring founders, where you can find a co-founder to kickstart your entrepreneurial journey. Applications are now open.
The Antler India Residency
The Antler India Residency is India's most exclusive community of aspiring founders, with a set of interventions and activities designed to forge meaningful connections and collaborations. Ultimately, the Residency's goal is to help you find the ideal co-founder, a long-term and enduring partnership between builders. The Residency is a space for anyone who is actively ideating, tinkering, building, or taking the first steps in their entrepreneurial journey.
Meet and build with fellow hand-picked world-class operators who are committed to starting up, spend a targeted 12 weeks at the Residency, and find a co-founder whom you may not have crossed paths with otherwise. 
At the end of the Residency, teams have the opportunity to present to the Antler India Investment Committee for investment. We back you as people at the Residency, and we back you as first believers in your new venture.
Applications are now open.
An exclusive community of aspiring founders
With a less than 3% acceptance rate, the Residency represents the top 1% of operators dedicated to kickstarting their entrepreneurial journey. You will be a part of a community with diverse functional and domain skill sets – from a Head of Engineering at a high-growth startup to a climate expert ideating across multiple solutions. The bottom line? Everyone will be highly committed to meeting the right co-founder and jumpstarting an incredible venture. This community will be a sounding board to stress-test your problem statements and be your early cheerleaders.
A proprietary process to forging connections
We are not a speed-networking platform. We are not just putting you in a room to socialize. Globally, Antler has conducted 65+ cohorts across 23 locations and developed a robust approach to forging deep, long-lasting connections between like-minded individuals with complementary skill sets. Our proprietary methodology involving a carefully curated cohort and deep personality assessments has resulted in successful matches for over 2300 founders and investments in over 400 companies.
An accelerated path to building your company
The thoughtfully designed interventions include three weeks of IRL building followed by multiple work sprints, deep dive sessions with the Antler Team and idea validation workshops. After finding your co-founder and honing your idea, we will provide support to help you build out the first version of your product - from customer validation to MVP to thinking about go-to-market strategy - through dedicated pod sessions and office hours.
Your first believers and capital backers
All Antler India Residency participants receive a stipend of INR 1,00,000 per month for 3 months (incl. Phase 2 of the Residency). After the Investment Committee, we offer select teams USD 250K for 10% equity. Furthermore, we work closely with all portfolio companies to help raise the next seed round and continue investing more into our portfolio companies as they scale with the aim to be a partner throughout the journey to an exit or IPO. The founders of the first Antler India Residency are now undergoing the Investment Committee process and the investments will be announced soon.
What our founders have to say
Co-founders matched globally

Portfolio companies, where co-founders met through Antler

Average co-founder matching success rate

Rate of raising follow-on capital
Offices across five continents

Companies with a female founder
Who can apply?
The Antler India Residency is for the top 1% builders and operators who are absolutely certain they want to dedicate their next chapter to entrepreneurship. Here is what that may look like:
You are a senior leader in a high-growth startup who is certain that you want to build something of your own, but have not had time to explore any concrete ideas or potential co-founders
You are an engineer excited about emerging technologies and want to start building right away 
You have built engineering teams at large companies and now want to start out on your own
You are a domain expert who has validated a few ideas and are looking for complementary co-founders to kickstart your venture
You have already started up as an individual or small co-founding team but are looking for a critical co-founder with specific skill-sets or knowledge
The first cohort of the Residency involved founders from a diverse range of backgrounds who are now building in SaaS, Web3, ClimateTech, HealthTech, FinTech and Mental Wellness among others. 
Entrepreneurship is one of the most difficult yet rewarding paths in life. At The Antler India Residency, we want to ensure that all participants are fully committed to the journey, and can reap the full benefits of the Residency. Thus, we require all applicants to be free from any formal jobs: you should have either quit, or are actively serving notice, before the Residency starts on January 9, 2023.
Applications are now open. For more details on eligibility, please check out our FAQ section. For any queries, please write to us at india-residency@antler.co.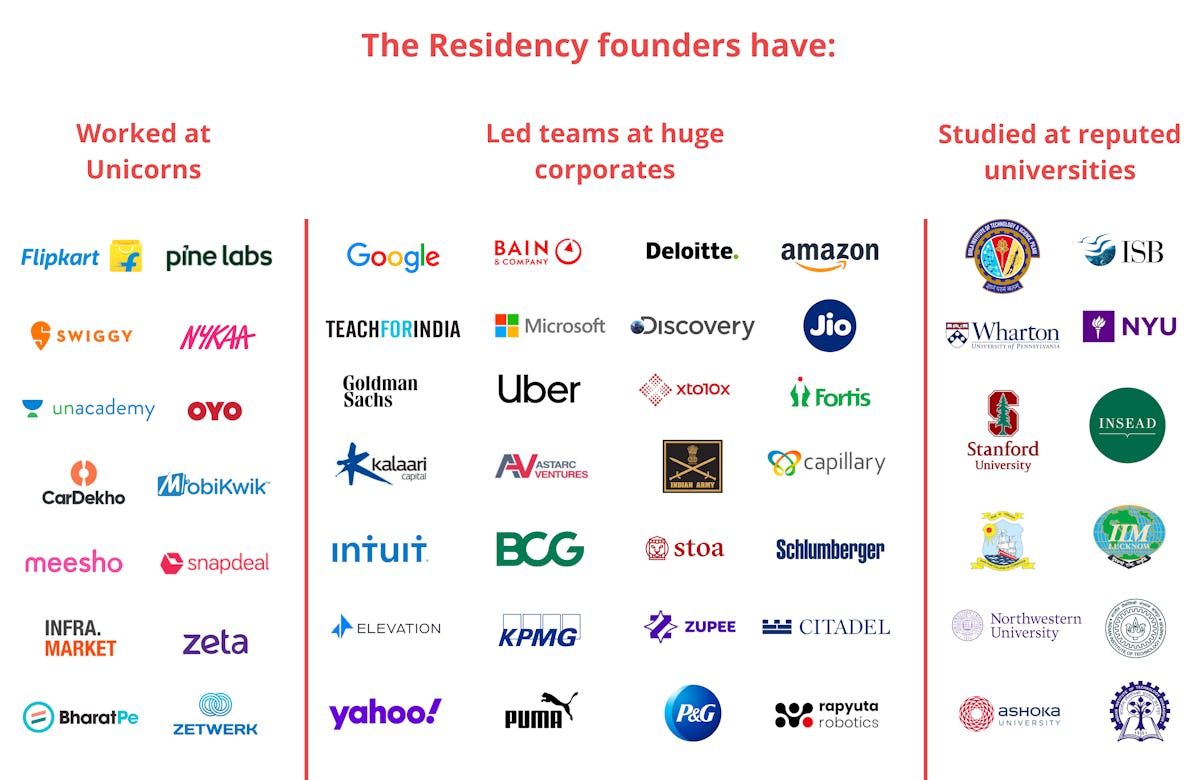 The Schedule
Phase 1: Find your co-founder(s)
During Phase 1 at The Antler India Residency, you will have the opportunity to meet 60 to 75 exceptional individuals from diverse backgrounds, all passionate about building a successful startup.
The cohort will embark on an intense two months of activities designed to maximize their time with each other. The first three weeks will be held in person and involve getting to know fellow founders deeply. Post the IRL phase, founders can choose either a hybrid or remote engagement based on their preference.
This phase also includes a behavioural analytics workshop, collaborative side projects and build sprints, sector deep dives, idea/problem statement validation sessions and carefully crafted nudges to help you find your ideal co-founder.
Phase 2: Build your idea into a startup
Once you identify the right co-founder(s) to work with, you will start the building process. In Phase 2, you will spend time identifying and validating a problem to solve, as well as executing that idea. You will be part of a supportive environment to iron out what to build, and start transforming your idea into a startup. Throughout, you will have access to team office hours and sessions led by functional experts across product, design, marketing and sales, amongst others. In addition, we have planned custom modules for developers and engineers in the cohort, hosted by tech specialists who transitioned into being founders, to help make the mindset shift from technology operators to leaders. 
At this stage, you will have 4-6 weeks' time, before you pitch and raise an investment round.
Phase 3: Get funding and fund-raising support
For select teams that receive funding from Antler India, you will work extremely closely with our Portfolio team and overall organization to build from 0 to 1. You will have access to all Antler India portfolio resources to help you scale your business, prepare for next-round fundraise, and develop as a founder and human being – including partner time, access to Antler's global portfolio platform, a dedicated advisory group, and more. Multiple Antler India portfolio companies have raised the next rounds from Tier 1 VCs.
Companies founded at Antler
XanPool is an open finance infrastructure company that makes sending all forms of money across the world faster, cheaper and at lower risk.

Brick is a financial data API enabling tech companies in SEA to enable in-app financial services with just 1 line of code.

Qashier provides smart point-of-sale (POS) solutions to help small merchants digitise their businesses
Key Dates
Applications start: September 22, 2022
Applications close: November 6, 2022
Residency start date: January 9, 2023
Investment Committee pitches: Mid April - June, 2023
Know more about The Antler India Residency
Sign up to get all your questions about The Antler India Residency answered by Rajiv Srivatsa (Partner, Antler India) and Nandini Vishwanath (Program Director, Antler India).
We have been first believers in: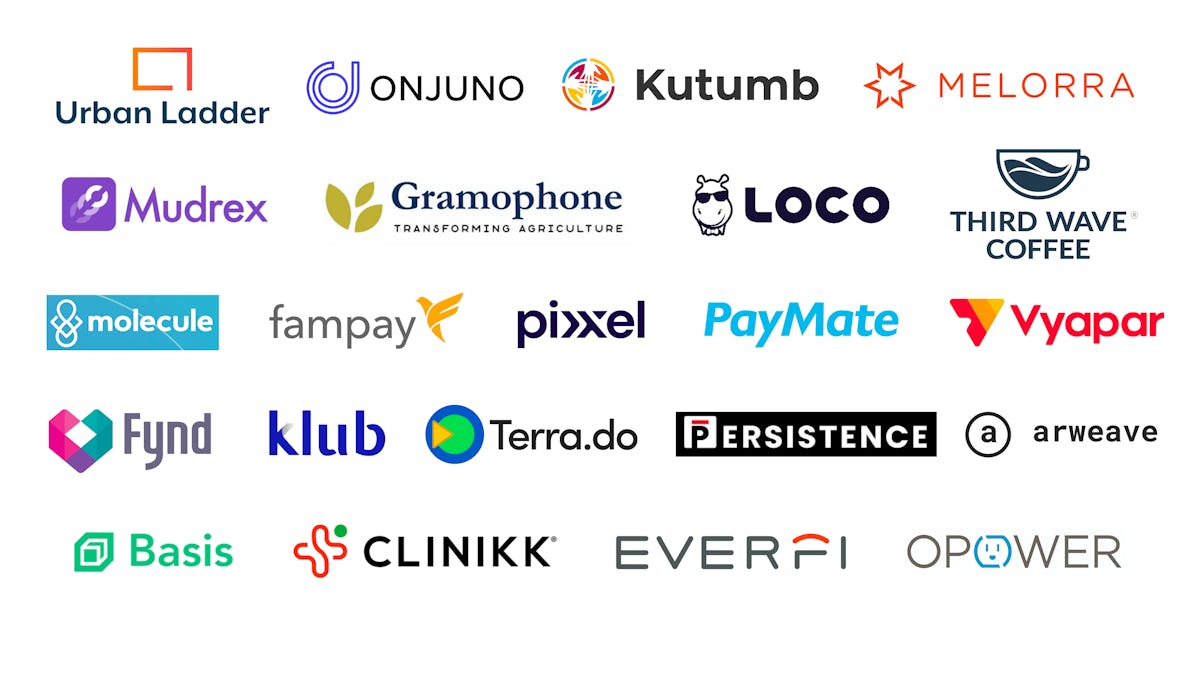 About Antler India
Launched in 2020, Antler India is on the path of deploying $100M in India in the next 3 years, backing the country's most exceptional founders. We are a startup's first institutional backers. We currently do pre-seed investments in the range of $500k for earliest-stage founders, even at a concept or idea stage. Moreover, we are a rare global institutional fund dedicated to this stage in India, and we can support founders through multiple stages in the first 4-5 years of the journey with significant reserve capital for future rounds.
To explore funding with Antler India, visit here.